I have openly admitted before that I have
serious
issues when it comes to decorating. I cannot leave things alone. Exhibit A...the front porch. Yes, I know it looked good the first way I had it...That would have been "good enough" for some people, but "good enough" just won't work for me.
Last week, I added the mesh and the leopard print ribbon + the wreath I made. That looked great. BUT...great is not great enough for me!! I
still
wanted my cornstalks!! BUT, alas, to my great dismay...no one had them for sale. I know plenty of people who have them in their fields, but they haven't cut them yet. So, I kept hoping. On the way to Lowe's last night, look what I found RIGHT BEFORE the little store closed in five minutes!! I ran in, got my cornstalks, and drove off into the sunset. :)
I couldn't wait to put them out, so after I got home and fed everyone and got them all asleep, I played on the porch. I know people were wondering what on earth I was doing at 11 o'clock at night on the front porch!! I couldn't wait to get up this morning to see it in the daylight. LOL!!

Of course, I couldn't have just plain cornstalks, so I added a couple of leftover acorn picks that match the garland, more mesh ribbon and leopard print bows, of course!!
Another thing I added under darkness of night was a fleur de lis bench to the front porch. I have two of these....thought about adding the other one, too, but I think I will wait until Christmas...
I have an idea brewing!!!
Look how cute this is with my old leopard print pillows, my pumpkin pillow, and Mr. Pumpkin...
I also added a few mums...the little nursery that had the cornstalks also had mums on sale for $5. MUCH cheaper than the big stores had them, and they were much prettier!
I also added a scarecrow, mum, and tiny pumpkin to my adorable zebra print fall flag!!
I really think I am done now...seriously!! I don't think I have an inch left to do anything else with. LOL!!!
Less is more, but EVEN MORE IS ALWAYS BETTER!!!
Happy Sunday!
Linking up to Debbie Doo's Newbie Party, Metamorphosis Monday over at Between Naps on the Porch, to the sweet Miss Linda's Nifty Thrifty Tuesday party over at Coastal Charm, and a great blog I just found...DIY by Design for the Fall into Fall party!!!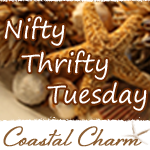 OH, and I have decided that IF I get to 200 followers, I am going to host a special GIVEAWAY in celebration of reaching the 200 mark!!!!
I just need eight more people!!!
(And someone to give me pointers on how to do it!)