A year ago, I decided to paint my oak kitchen cabinets black. I did it during the middle of the night because my husband kept saying no, no, no!!! He thinks it's CRAZY to paint perfectly good wood, brick, etc., but he is married to a loony woman who will paint the kids if they sit still too long. LOL!!
This all started because of a picture I found at Kirkland's the other night. It was soooo gorgeous. I just couldn't leave it behind. As I mentioned the other day, I'm not some big wine drinker. BUT....I do love this picture, and I love how wine bottles look. I could stare at the labels all day long. So, it started the whole kitchen redo this weekend. Paired with Mr. Rooster (from Kirkland's YEARS ago!), and a new winebottle holder from Kirkland's, I love how this looks!!
Here's a closer look at Mr. Rooster strutting his stuff and my super gorgeous picture from my favorite store, Kirkland's...

I love the way this cabinet and picture flow with the countertop vignette I did the other night...
Moving to the left toward the eating area....You can tell how MUCH I LOVE black!!! My furniture was already oak and black before I painted the cabinets.

Moving around the room, here's another thing that peaked my itnerest at Hobby Lobby that same night, something else I am in LOVE with and have been forever...topiaries!! I spied these two pics and HAD to have them. I knew they'd be perfect on each side of my doors. LOVE how they match my curtains!
Notice my rooster pictures over there on the wall? They're from Family Dollar. Five bucks each!! I couldn't leave them behind either.
AND..this is how quickly things can change at my house!! Went to Ross today and spied this Mr. Rooster....couldn't leave without him, of course!! He was less than $10!!! What do you think? Like him better here on the hutch or like the water pitcher better? HMMM....confusing!!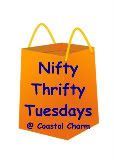 tp://"/>