Let me go ahead and admit it.....I'm CHEAP! I guess the politically correct term these days is "thrifty". Whatever you want to call it, I will just tell you straight up that I am a bargain shopper. Yes, I have a good job, yes I make good money. Yes, I could pay full price and not blink. That doesn't matter to me. I still think we should be good stewards of our resources, and I do love me a good bargain!!!
Shopping at the thrift store and our local antique store (which is really an indoor flea market) is my favorite activity on the weekends. Yard sales are hard for me to do with dragging the little kids around and all. There are no buggies to corral the little boogers in!! LOL! So, for now, I'm sticking with my two favorite haunts. I always can find some treasures every time I go, and I never leave disappointed. So, without further ado.....this week's thrifty treasures!!!
First up...this lovely silver pitcher! $13 at the local antique store. Not a scratch or dent on it! LOVE it on my white cabinet (also a thrifty find at the same place a few weeks ago). The shell picture was another thrifty find a few weeks ago. $10 for this great picture! I love the frame!
Another silver thrifty treasure....this vintage lid for $5. Yes, I bought just a lid. No, I haven't flipped my lid, just look at what I did with it....
And....on the way home from the antique store, I saw this cutesy little cart full of flowers outside a farmhouse. An eldery lady was sitting out there selling flowers. I got two of these gorgeous plants for $8. They are simply sublime on my front porch!
And, for the very best thrifty treasures of all.....the FREE kind! I found both of these things while walking in the woods behind my house. My cat had kittens, and I was trying to find them. I found these instead. (Yes, I eventually found the kittens, too!) 
Coastal Charm
for
Nifty Thrifty Tuesdays No. 60.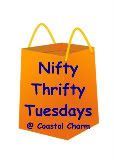 Also linking up to The Tattered Tag and
Keep it Simple Sunday!