A combination you definitely don't normally see together, but anyone who knows me very well knows that I've always got to have a little bit of animal print everywhere!!! Hence, my new fall sideobard decor. Remember these little beauties?
Don't you love my leopard print tray from Hobby Lobby? I have two of these. I love, love, love, love them because they are leopard print AND have a fleur de lis!!!!! Did I say LOVE???
I'm linking up to Debbie Doo's Newbie Party, Coastal Charm's Thrifty Treasures, Tabletop Tuesday at a Stroll Through Life, and with Terri at It's a Party at A Creative Princess!!! (Thank you, Terri, for telling me about your AWESOME party!!!
Hope to see you there!!!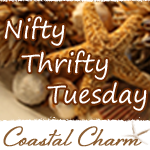 ""/>